Xylem Water Solutions launches new OEM Centre of Excellence for Europe
July 8, 2020
Posted by:

Elaine Coles

Category:

Companies, Engineering, Technology & Innovation, Europe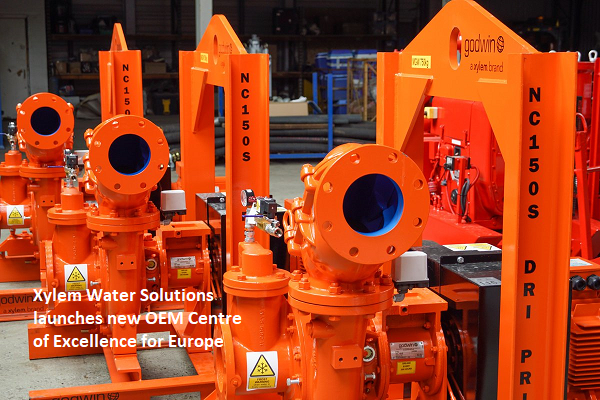 Leading global water technology company Xylem Water Solutions has invested in an OEM European Centre of Excellence (CoE), based from its UK facility in Axminster.
The Axminster CoE will be the centre of Xylem's OEM innovation, expanding the group's current offering through an innovative and customised "plug and play" solutions range. A most recent example is Xylem's premium GHVR reduced footprint booster set.
The Axminster CoE creates a focussed team of experts with decades of experience in understanding Xylem customers' specific requirements and providing OEM added-value bespoke products. The new development will take Xylem's customer support to the next level in terms of the customisation of solutions, based on each customer's requirements, all configured and shipped within expedited timescales to give a true partnership experience.
Paul Winnett, General Manager, OEM & Building Services, Xylem Water Solutions, explained:
"Our Axminster facility is committed to meeting customer demand and consistently delivers high quality, efficient products and best-in-class service. We are delighted it is now recognised as a Centre of Excellence which enables Xylem to increase its high performance and high engagement with customers.
"Customers can make significant efficiency gains and cost savings by outsourcing their processes to Xylem: what could take 7 to14 days in a factory, or at their own facilities, Xylem can now turn around and ship within 1 to 2 days. This is even more important in these extraordinary times, where building owners, including hospitals, NHS facilities and care homes, need to have confidence in critical systems. The ability for products to be shipped the same day in an emergency, dramatically reduces the downtime of facilities, which can be vital. Distributors and other customers can equally benefit tremendously from working with Xylem as a one-stop-shop for their packaged solutions.
"It is an exciting and important step towards our continued objective of being the partner of choice for OEM solutions, whether that be from a standard product range, or engineered to order, special solutions."
Xylem's Axminster CoE will enable full local assembly and a dedicated team of engineers who will work on prototypes and, when approved, full production models. Specialist facilities will ensure all OEM configured products are fully tested whilst qualified technical engineers will be dedicated to OEM quoting, including drawings, specifications, order entry and constructing Bills of materials. Xylem's internal sales team, highly skilled in managing complex OEM call of orders, will ensure just in time models run by OEM's run smoothly to maximise production capacity for customer.
This is one of several investments Xylem is making in European Centres of Excellence focused on specific markets and innovative solutions to bring together unique expertise across Europe.
Tags