2% of companies worldwide worth $12 trillion make CDP's A List of environmental leaders 2021
December 7, 2021
Posted by:

Elaine Coles

Category:

Agriculture, Companies, Environmental, Global, Investment and Finance, Africa, Arctic & Antarctica, Asia, Australasia, Europe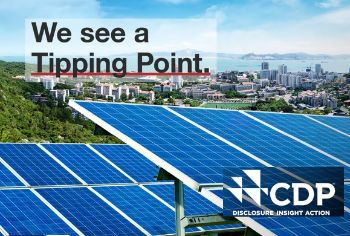 272 companies worldwide – worth US$12 trillion in market cap – have today been highlighted for their environmental leadership, based on their level of transparency and performance on climate change, forests and water security.
The leading companies have been named on CDP's prestigious annual A List, and are among nearly 12,0001 ranked A to D- on their environmental performance by CDP – the non-profit that runs the world's environmental disclosure system for companies, cities, states and regions.
Big names on the A List include Diageo, Infosys, PepsiCo, TETRA PAK, AstraZeneca, Colgate Palmolive and Lenovo Group.
Notably, water and forests are rising up the corporate agenda, as more companies than ever are taking leading action on there issues.
Commenting that "nature had a clear seat at the table at this year's COP26 summit", CDP said the Glasgow Pact as well as the IPCC's Sixth Assessment Report made it clear that environmental issues are interconnected and must be managed together.
According to CDP, companies gradually seem to be recognizing this and adopting a more holistic approach to reporting
A total of 14 pioneering companies – including L'Oréal, Unilever, HP and Lenzing AG – achieved a triple A for their performance on all three environmental themes in 2021, an increase on last year's record of 10. In  addition,  the number of companies on CDP's Forests A List rose from 16 to 24 while the Water A List grew from 106 to 118.
However, the number of companies on the Climate A List has dropped from 280 last year to 200 in 2021, as the consensus on what qualifies as climate leadership has evolved and the bar raised.
"Much of the low hanging fruit" at companies' disposal has now been utilised and more ambitious action is urgently required, CDP said.
Among other criteria, to score an A, companies must have robust governance and oversight of climate issues, rigorous risk management processes, verified scope 1 and 2 emissions and be reducing emissions across their value chain. Most also now have well established emissions targets that have been approved by the Science Based Targets initiative, and evidence of targets which cover their scope 3 emissions.
CDP cautioned that while it is positive to see the leadership of some pioneering companies, and the efforts of others to improve, these companies represent only the tip of the iceberg.
Just 2% of all scored companies made the A List, and 58% scored between C and D -, meaning they are only just beginning to recognize their environmental impact.
It is also concerning that 16,870 companies worth US$21 trillion in market cap – including Chevron, Exxon Mobil, Glencore and Berkshire Hathaway – failed to respond to the request for information from their investors and clients, or provide sufficient information in their response.
Pointing out that the non-disclosing companies "are now going against a tide of change", CDP said that  a series of environmental disclosure requirements were being developed and announced at COP26 and throughout 2021, as well as more companies than ever disclosing environmental information every year.
CDP recorded over 13,000 corporate disclosures, representing some 64% of global market capitalization in 2021 – an all-time record. In addition, there is rising market demand for corporate environmental transparency. More than 590 investors with over US$110 trillion in assets and 200 major buyers with US$5.5 trillion in procurement spend requested corporate environmental data through CDP in 2021.
Dexter Galvin, Global Director of Corporations & Supply Chains at CDP, said:
"COP26 highlighted the necessary role corporates play in driving the real economy changes to tackle the climate and ecological emergency, and keep us within 1.5°C. It is fantastic that more businesses are disclosing their impact every year and recognizing the interconnectedness of environmental issues. We now need to see even more ambitious action on climate, and more businesses stepping up on other areas of natural capital. 17,000 corporates failing to even take the first step and report their environmental data is far too many. These companies are not only putting the planet at risk, but themselves. If they continue with business as usual, they will end up on the wrong side of public opinion, regulation and investor sentiment. And scrutiny is rising – empty targets or greenwash simply won't fly."
Alan Jope, CEO of Unilever, said:
"Business can only thrive on a healthy planet. Unilever sees CDP as a key partner in delivering the change business needs to make, working with some of the most influential companies, cities and regulators to build sustainable economies. We're delighted that Unilever has been awarded Triple A status for our approach to climate action, water security, and forestry. And it's great to see so many other companies on the list, indicating a real step change in ambition and shared accountability as we gear up to a net-zero world."
James McCall, Chief Sustainability Officer at HP Inc., added:
"To drive change, companies need to take decisive and urgent action to support the communities we serve, and the natural ecosystem we all depend on. We believe that purpose driven companies should lead by example, creating a path for our supply chain, business partners, and customers to join us. Being recognized on CDP's A Lists for Climate, Forests and Water for the third consecutive year is an honor, and serves as further motivation for us to continuously raise the bar. CDP's robust disclosure process is an important mechanism to drive accountability as we strive to be the world's most sustainable and just technology company."
Tags