FAO progresses work on publicly available near real time remote sensing database for water productivity
August 4, 2020
Posted by:

administrator

Category:

Agriculture, Environmental, Global, Technology & Innovation, Water Issues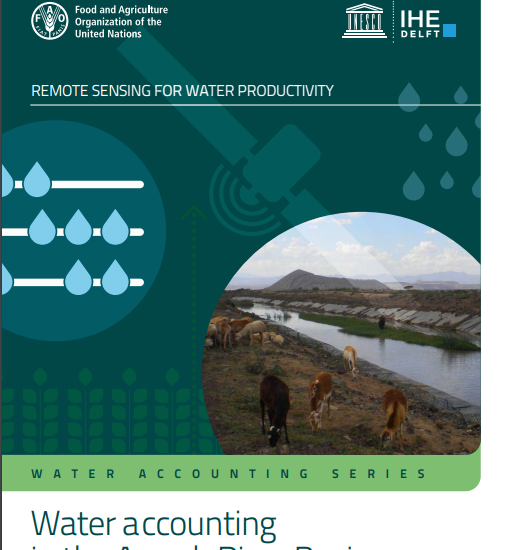 To monitor the performance of water use in agriculture the Food and Agriculture Organization of the United Nations (FAO) has developed a publicly accessible near real time database using satellite data that allows monitoring of agricultural water productivity – WaPOR, remote sensing for water productivity.
The programme on WaPOR, FAO's portal to monitor Water Productivity through Open-access of Remotely sensed derived data, assists countries in monitoring water productivity, identifying water productivity gaps, proposing solutions to reduce these gaps and contributing to a sustainable increase of agricultural production.
At the same time, it takes into account ecosystems and the equitable use of water resources, which should lead eventually to an overall reduction of water stress.
The FAO has now published a new WaPOR report 'Water accounting in the Awash River Basin" which provides the water accounting study for the Awash River Basin in the central Rift Valley of Ethiopia
The Awash River Basin is the most utilized river basin in Ethiopia hosting most of the industrial activities in the country, a number of small to large scale irrigation schemes and the main population centres of the country with more than 18.6 million people.
The basin faces the ongoing of challenges high water stress during the peak of the irrigation season, water scarcity and frequent flooding in rainy seasons.
With the population estimated in 2017 and with yearly average exploitable water resources of 8.7 km3, the inhabitants are already facing a severe water shortage (<500 m3/cap/year).
The report, the latest in a series based on the WaPOR data, was prepared via a collaboration between IHE-Delft Institute for Water Education and the Food and Agriculture Organization of the United Nations.
New developments in earth observation technology indicates that nowadays it is feasible to monitor key data for sustainable agricultural production and natural resources management using satellite remote sensing. This highlights the need for a comprehensive operational methodology, both scientifically robust and effective at various scales.
By providing near real time pixel information, WaPOR opens the door for service-providers to assist farmers in obtaining more reliable yields and improving their livelihoods.
At the same time, irrigation authorities have access to publicly available information via the FAO portal to modernize their irrigation schemes and government agencies are able to use this information to promote and increase the efficient use of their natural resources.
Click here to download the WaPOR report Water accounting in the Awash River Basin
Click here to access the WaPOR portal
Tags