Masdar and Daewoo partner on sustainable desalination technologies development
February 22, 2018
Posted by:

administrator

Category:

Corporate, Asia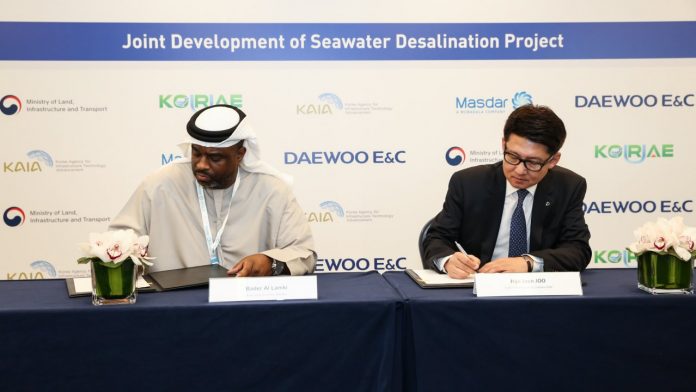 Abu Dhabi Future Energy Company, Masdar, has signed a strategic agreement with global infrastructure and energy development company Daewoo Engineering & Construction Co., Ltd. to support the commercialization of low-energy reverse osmosis seawater desalination plants in the Middle East, North Africa and Asia.
The agreement was signed by Hyo Joon Joo, Senior Vice President, Daewoo E&C, and Bader Al Lamki, Executive Director, Clean Energy, Masdar, on the sidelines of Abu Dhabi Sustainability Week (ADSW) 2018, one of the world's largest sustainability gatherings.
The commercial agreement lays the groundwork for the commercialization of the advanced reverse osmosis desalination technology, which will be developed under Masdar's Renewable Energy Desalination Pilot Programme in Ghantoot, Abu Dhabi, in collaboration with the KORAE Research Group, which includes Daewoo E&C.
The KORAE Research Group was launched in June 2016 with the support of the government of the Republic of Korea (Ministry of Land, Infrastructure and Transport) through the KAIA (Korean Agency for Infrastructure Technology Advancement) as it is a follow-up measure of a summit meeting between Republic of Korea and the United Arab Emirates.
KORAE Research Group will become Masdar's sixth international partner under the programme, which was launched in 2013 and first inaugurated in November 2015. The programme provides a test-bed for the development of innovative and advanced desalination technologies to help bridge the gap between promising desalination technologies developed in the lab and solutions ready to be applied in commercial settings.
Hyo Joon Joo, Senior Vice President of Daewoo E&C, said:
"Water is the most important resource of mankind. To resolve freshwater shortage occurring around the world, investing in water technology development should be a top priority for mankind. Partnering with Masdar, who is the regional leader and a major international player in renewable energy and sustainable urban development, will be a great opportunity and strength to develop and commercialize the advanced seawater desalination technologies. In future, Daewoo E&C looks forward to cooperating with Masdar in various clean energy fields and around the world."
Daewoo E&C is an international leader in the engineering and construction of large infrastructure projects in numerous industries. Through this agreement and in collaboration with Masdar, Daewoo E&C hopes to expand its business activities to include seawater desalination.
Mohamed Jameel Al Ramahi, CEO of Masdar, said:
"Investing in the desalination sector is of critical importance as the global demand for freshwater is growing rapidly while freshwater reserves are shrinking. Partnering with industry leaders like Daewoo E&C, who have a vast range of construction and industry experience, will accelerate the development and commercialization of sustainable desalination technologies critically needed to enhance water security in the region."
Tags