Ostara and City of Atlanta announce official launch of Nutrient Recovery Facility
March 10, 2020
Posted by:

administrator

Category:

Agriculture, Technology & Innovation, Water Treatment, North America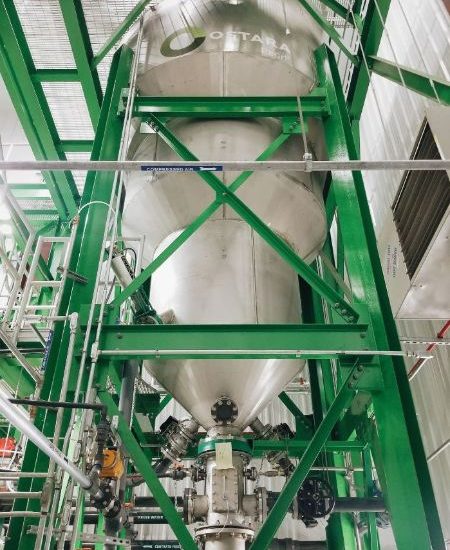 Ostara Nutrient Recovery Technologies Inc. in partnership with The City of Atlanta Department of Watershed Management (DWM) has announced the official opening of a state-of-the-art Nutrient Recovery Facility at the R.M. Clayton Water Reclamation Center (WRC).
The facility will recover valuable phosphorus, helping protect local waterways from nutrient pollution, while producing an environmentally sustainable fertilizer.  This is Ostara's 22nd full-scale project and has been delivered to the City of Atlanta Department of Watershed Management under a design-build agreement and financed through a unique operating lease model.
"The Ostara Pearl® Nutrient Recovery facility will recover phosphorus that can be repurposed from reclaimed water, help protect local waterways from nutrient pollution, and create new revenue by producing an environmentally sustainable fertilizer," said Kishia L. Powell, Commissioner, City of Atlanta Department of Watershed Management. "This new system is a cutting-edge approach to achieving core strategic priorities that will enhance operational efficiency, increase fiscal responsibility and improve customer service."
Dan Parmar, President and CEO of Ostara added:
"Partnering with progressive organizations, like the City of Atlanta, and providing the capital and the technology to bring circular solutions to local communities is our core focus."
"Together, we don't just recover phosphorus, we clean water to grow more food, transforming the nutrients we recover into high-efficiency fertilizers that help build resilient cities and food systems from source to field. We're very proud of our work with the City of Atlanta."
Ostara's Pearl nutrient technology achieves cost savings, protects local watershed & improves operations
R.M. Clayton WRC is required to meet regulatory limits on nutrient discharges to help prevent excess nutrients, including phosphorus and nitrogen, from entering waterways.
Phosphorus,which is a finite resource essential for growing the world's food supply, can potentially cause nutrient overloading in waterways, contributing to toxic algae blooms harmful to aquatic life.
Additionally, within the water treatment facilities, these nutrients can also build-up — blocking pipes, pumps and valves—causing costly operational and maintenance issues.
The City of Atlanta proactively implemented Ostara's Pearl nutrient recovery at R.M. Clayton WRC to:
Help meet existing regulatory requirements that limit allowable nutrient discharges — phosphorus and nitrogen — from entering the Chattahoochee river
Achieve annual cost savings in chemicals, solid waste disposal, maintenance, and power use
Offset carbon footprint (from both water treatment and fertilizer production) by an estimated 10,000 tons CO2e per year
Recover up to 80 percent or more of the phosphorus and up to 15 percent of the nitrogen from internal recycle water for reuse as pure, granular and environmentally sustainable fertilizer sold by Ostara under the Crystal Green® brand portfolio.
Generate a revenue stream for the City with Ostara purchasing every ton of fertilizer recovered at R.M. Clayton in a long-term offtake agreement
Robert F. Kennedy Jr., Ostara Board Member, attorney and environmental advocate commented:
"Innovation is one of the most powerful ways to disrupt the status quo, and Ostara's solutions, alongside the farmers and leaders – like the City of Atlanta – who are using them, are showing it is possible to clean up the earth and make a profit while doing it."
"With this lease financing model, the City of Atlanta can cost-effectively use Ostara's Pearl® technology to capture nutrients that would otherwise pollute our lakes and rivers, and transform them into Crystal Green, a fertilizer that not only increases crop yields, but does so while virtually eliminating the effects of runoff."
The upgrades at the R.M. Clayton Water Reclamation Center were officially completed in February 2020 and include two of Ostara's proprietary Pearl® 2K reactor systems housed in a new solar-roofed building for further increased sustainability. The new facility will have an installed production capacity of approximately 1,000 tons of fertilizer per year.
Under the lease financing agreement, the Department begins payments once the plant is in operation, with funds being accessed from operational savings and the new revenue generated by fertilizer production. The unique financing model increases access to nutrient recovery solutions by providing utilities with the opportunity to proceed with capital projects that offer operational savings, without allocating capital funds.
Ostara's proprietary Pearl® technology recovers phosphorus and nitrogen from process water — phosphogypsum, industrial, agricultural, and municipal — to produce sustainable, high-efficiency crop nutrition solutions for the agriculture and turf industries under the Crystal Green® brand.
Tags