South Australia focuses on AgTech to combat rising climate challenge
December 27, 2019
Posted by:

administrator

Category:

Agriculture, Technology & Innovation, Water Issues, Australasia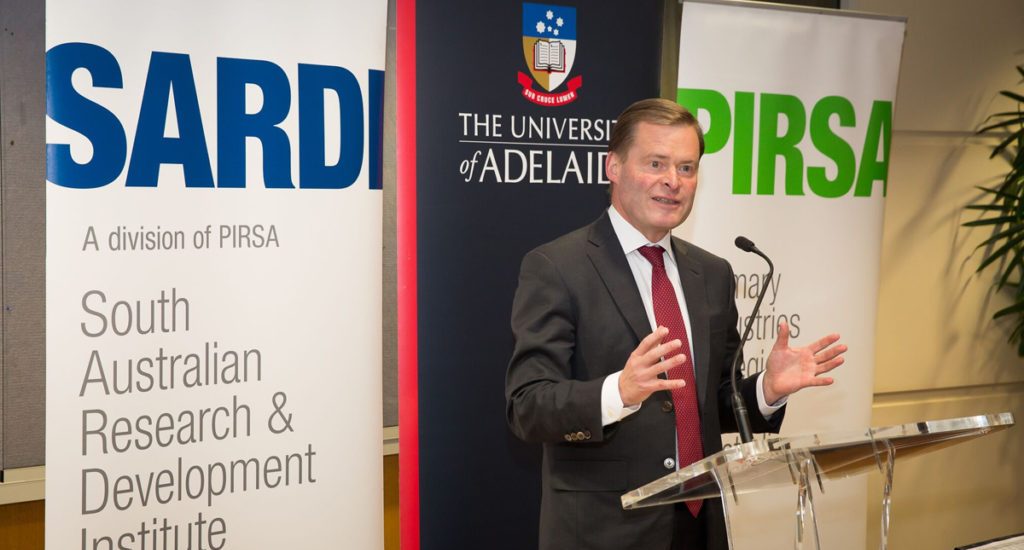 University of Adelaide Vice Chancellor Professor Peter Rathjen
The rising impact of climate change and extreme weather conditions are driving South Australian farmers to use technology to help them boost productivity in increasingly challenging situations.
South Australia has launched a plan to become a leader in AgTech with a focus on dryland agriculture.
The state's premium food and wine is exported around the world. However, South Australia is the driest state in Australia, the driest inhabited continent on Earth.
In August, the South Australian government announced a major partnership with the University of Adelaide to reduce red tape and bridge the gap between academic research and commercial technologies.
One of a number of collaborative projects already underway is using machine learning to interpret satellite imagery to identify grazing pressures in remote farming areas in real time. This will potentially replace a system that only assessed these regions once every seven years.
The collaboration will also give University of Adelaide scientists access to five state-owned research farms and will bring a diverse range of academic knowledge to the agricultural sector in fields such as mathematics, engineering and machine learning for the application of new technologies.
Two of the farms will be also used to trial new AgTech inventions and demonstrate them to farmers to encourage early adoption.
Agriculture is among South Australia's largest industries, contributing almost $20 billion to the state's economy and supporting 152,000 jobs in the 2017/18 financial year.
University of Adelaide Vice Chancellor Professor Peter Rathjen said the university and South Australia had an opportunity to build on its global reputation in the areas of cereal breeding and genomics, winemaking and viticulture and animal sciences and production.
"We want to not just produce food for consumption and export, as important as that might be, we want to produce knowledge in sustainable cereal production, water management, dryland farming systems and to do that by bringing to these pressing global problems new technologies and new collaborations," he said.
The University of Adelaide also this year launched ThincLab Waite, a business incubator aimed specifically at startups in the AgTech food and wine sectors.
AgTech industry experts met in South Australia last month to explore how AI, big data, biotech, robotics and other emerging technologies can drive efficiency and combat climate change.
Local companies already making inroads in the AgTech space include:
Satellite communications business Myriota is becoming a global leader in nanosatellite Internet of Things (IoT) connectivity and is based at an innovation precinct in the CBD of Adelaide, South Australia. Its projects announced this year include a partnership with Queensland AgTech business Goanna Ag to unlock the power of remote monitoring and a collaboration with Davey Water Products to add its IoT connectivity to Davey's TankSense product range, enabling farmers to receive water level data direct to their mobile phones.
Seed Terminator this year entered full production of its machines that pulverise weed seeds as grain crops are harvested following a decade of research. The Adelaide-based company has now manufactured more than 100 of the units, which can be retrofitted to a variety of harvesters. More than 120 trials have been held in Australia, North America and Europe.
Adelaide startup ByGen has developed a low-cost technique for making activated carbon from agricultural waste ahead of a capital raising round to fund commercial production. Founders Lewis Dunnigan and Ben Morton established a pilot plant last year, and have experimented with a variety of widely available agricultural wastes including almond shell, sawdust, grape marc and rice husks to produce high quality activated carbon.
Primary Industries and Regions SA (PIRSA) will also host Advance Ag – South Australia's first AgTech showcase in February.
The event on February 24 will discuss the latest thinking in AgTech innovation and demonstrate its practical application and benefits on-farm through case studies from fellow producers, AgTech developers and industry leaders.
Tags