TERI and Maithri collaborate to generate potable water from air moisture
March 5, 2020
Posted by:

Lyn Wilson

Category:

Corporate, Environmental, Research Papers, Technology & Innovation, Water Treatment, Asia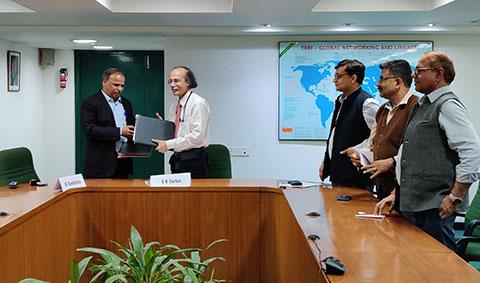 The Energy and Resources Institute (TERI) and Maithri Aquatech Pvt Ltd signed a Memorandum of Understanding (MoU) on 27th February 2020. The aim of the agreement is to work towards the vision of the Government of India in providing universal access to drinking water through an innovative 'Air to Water' technology.
TERI, headquartered in New Delhi, is an independent, multi-faceted organization supported by an eclectic team of scientists, sociologists, economists and engineers, and up-to-date infrastructure. During the past 40 years the institute has pioneered conversations and action in the energy, environment, climate change, and sustainability sectors.
Maithri Aquatech  prominent developer and manufacturer of Atmospheric Water Generators (AWG) aims to ease the problem of  global water crisis through the  development  and manufacturing of its product Atmospheric Water Generator and Mineralizer – MEGHDOOT.
The significant features of the product, MEGHDOOT are the following:
It produces 100%microbe-free potable water
It requires minimum maintenance and easy to set up and use
The atmosphere contains 37.5 million billion gallons of water as moisture and less than 1% of it is required to meet global water demand
Founder and Managing Director of Maithri Aquatech Pvt Ltd, M Ramkrishna said:
"Maithri has developed the World's first 'Air to Water technology' under Make in India initiative. Our solution, named MEGHDOOT, has been developed to reduce dependence on groundwater sources, by harvesting atmospheric moisture. The technology has been designed with an intricate filtration system that rids the collected moisture from all contaminants and odors. The technology can meet the water requirement of all companies, from MSMEs to large corporations, educational institutes, hospitals, airports, residences, etc."
Dr Syamal Kumar Sarkar, Distinguished Fellow of TERI, said:
"We are joining hands with Maithri with an aim to assess the potential of their technology in meeting the Sustainable Development Goal (SDG) of equitable access to water or the goal under Jal Jeevan Mission of the Government of India for providing piped water connection to every rural household by 2024."
The key focus of the partnership will be to assess the adaptability of this technology for different climatic zones as well as habitations in India and if working in union is found to be feasible the institute will endeavor to raise wider awareness about the technology.
Under the MoU agreement TERI will conduct studies in the suitability and adaptability of the 'Air to Water' technology in different climatic conditions. Under the joint collaboration both TERI and Maithri Aquatech will make contact with the appropriate stakeholders including the government ministries, departments, state governments, and other related agencies, for effective dissemination of the results of the joint study.
Tags